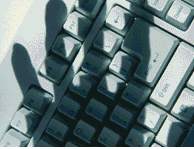 Man charged with cyber crime
Date:
February 15, 2009
Source:
thewhig.com
Police are concerned that a cyber predator has been operating from Kingston, luring young girls over the Internet.
Investigators are asking for information from anyone who has had contact with a man using the e-mail address
[email protected]
On Thursday, police raided a Kingston home and arrested 20-year-old Stephen M. Bordage and charged him with luring a child over the Internet.
Bordage is on probation from convictions in January for assault and assault with a weapon. He also is charged with four counts of breach of probation.
Police allege that Bordage met a 14-year-old girl from Waubaushene, a small community roughly 100 kilometres north of Toronto, through the social networking site Facebook.
The man said he was a 15-year-old boy living with his father and also talked to her through computer instant messaging, cellphone texts and by telephone.
He convinced her he was in love with her and hatched a plan to come to her hometown and return with her to Kingston by bus.
Police say the scheme might have been carried out except the mother of the girl received an anonymous phone call from another Kingston man, warning her about the plan.
Original article
---

Add comment

Email to a Friend