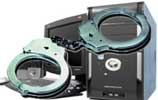 UK Hacker Loses Extradition Hearing
Date:
July 30, 2008
Source:
crn.com
By:
A British hacker who allegedly cracked into dozens of military, NASA and government computer systems on his supposed quest to prove that the U.S. was covering up the existence of aliens lost his extradition hearing in the U.K. today, meaning he could soon be returned stateside to face charges.
In the U.S., McKinnon faces charges in connection with a series of cyber attacks. Officials allege that he stole passwords, attacked military networks and wrought hundreds of thousands of dollars worth of computer damage.
A top London court on Wednesday refused to block the extradition to the U.S. of British hacker Gary McKinnon, 42. McKinnon allegedly hacked into nearly 100 U.S. Army, Navy, Air Force, Department of Defense and NASA computer systems between February 2001 and March 2002 and allegedly caused $900,000 in damage. McKinnon has not denied that he hacked into the computers, but instead said he did so while hunting down information that the U.S. government was concealing the existence of UFOs. McKinnon does, however, dispute that he caused such a high dollar amount in damage.
Original article
---

Add comment

Email to a Friend