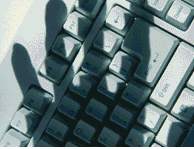 Suspicious spouses log into cyber crime
Date:
June 29, 2011
Source:
Timesofindia.indiatimes.com
MOHALI: Jilted lovers, jealous boyfriends and girlfriends and even married men and women, from good financial and educational backgrounds, are increasingly getting involved in cyber crime to ''get even''. They are doing all this to spy on the persons they have known up close and personal.
With more than 35 cases from all over Punjab of such behaviour studied, investigated into and culprits nabbed in the last eight months, experts at the cyber crime wing of Punjab police in Mohali believe that the lack of patience, long-distance relationships and lack of respect for another person's privacy are behind the disturbing trend.
Cyber crime cell senior superintendent of police Kunwar Vijay Pratap Singh said, ''There have been incidences where the ex-boyfriend of a girl was sending obscene messages to the new boyfriend of the girl from a fake e-mail address. These people are highly educated and can work their way around a computer.'' He said in most cases of privacy invasion, it is either the spouse of the victim or someone who is intimately known to them.
''Once in a while, we chance upon a case where the person posing as the victim is actually the criminal. In such cases it is pertinent to investigate the relationship that the two people share as well as get their backgrounds,'' he added.
An official of cyber crime wing said suspicious husbands and wives also indulge in password hacking to check for clues of straying behaviour exhibited by their spouses.
---

Add comment

Email to a Friend