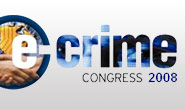 Stakeholders gear up for e-Crime Congress 2008
Date:
January 29, 2008
Source:
Vnunet.com
By:
Over 500 delegates from global businesses, governments and law enforcement agencies will meet in London in March at the e-Crime Congress 2008 to discuss cyber-threats and electronic crime.
Identity theft and fraud continue to threaten security and consumer confidence, but last year saw an increasing number of attacks on the IT infrastructure of companies and governments.
This year's congress will focus on effective counter-measures against organised online crime, including electronic espionage, identity theft, data loss and online fraud.
"The motivation of hackers is changing from fame to fortune," said William Beer, director of Symantec's Security Practice.
"The threats and malicious activity we are tracking demonstrate that hackers are taking this trend to the next level by making cyber-crime their actual profession.
"Businesses and governments need to ensure that they are equally professional in their approach to protecting their critical infrastructure."
Maksym Schipka, a senior architect at security firm MessageLabs, told vnunet.com in a recent interview about a shadow economy in the underground world of hackers which closely mimics traditional economic models.
Sharon Lemon, head of e-crime at the Serious Organised Crime Agency, said: "This is the most important event in our yearly diary, allowing us to develop relationships with law enforcement partners from across the globe.
"Building on the success of last year, 60 law enforcement representatives from 30 countries have been invited for 2008."
The UK government is expected to come under the spotlight at the event following serious data losses at several departments, most recently the loss of a Royal Navy laptop containing 600,000 personal records.
Original article
---

Add comment

Email to a Friend