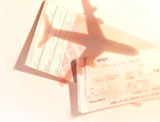 Warning: Internet travel scam
Date:
June 27, 2008
Source:
News.com.au
The scam involves a website called Tickets2cheap.com, believed to be run out of South Africa, which boasts the lowest airfares in the world, according to Queensland Police.
The company asks customers to pay for the tickets through cash remittance agencies.
Once the money is paid, the fraudsters purchase the tickets using stolen credit cards which are often cancelled by the time the purchaser is ready to travel.
A police spokesman said anyone seeking to buy air tickets online should make appropriate checks.
---

Add comment

Email to a Friend