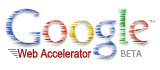 Google's profits threatened by click fraud
Date:
June 26, 2006
Source:
thebusinessonline.com
By:
Click fraud can be hazardous to your portfolio – and becomes more so each day. That warning should run as a red alert to investors about to buy shares of any internet search engine, especially Google. For a more noxious breed of "networked click-fraud bots" are here – an invisible electronic army of merry fraudsters that could take a serious slice off Google's stratospheric share price.
With Google trading at 31 times 2007 earnings, lofty expectations for the continued prosperity of pay-for-click advertising are baked into Google's $390 share price. At this level, any disruption to the paid-search revenue stream that fuels Google's shares might be like Kryptonite to the internet giant – because Google is mainlining paid-search advertising. Online advertising accounts for some 99% of the company's gross revenue.
Click fraud occurs when a person or computer programme clicks on an internet ad to generate a fake or improper charge per click. The fraud, as perpetrated either by programmes or by humans at so-called click farms, has been suspected for a while. But the newer, meaner hacker-injected "bots" – automated programmes that make the scamming faster and easier – are on the rise.
Normally, an advertiser is charged by the number of clicks recorded by a website or advertising network that sells the space. But when click rates are inflated by fraudulent means, then websites such as Google, Yahoo and others end up charging inflated rates.
Original article
---

Add comment

Email to a Friend