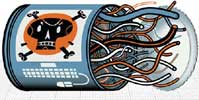 Computer virus histiry goes from 1988
Date:
September 25, 2006
Source:
cbw.cz
No one would knowingly leave their open wallet by the side of a crowded public pool and then go for a swim, but most people don't realize that their computers are just as exposed, or they ignore the danger, according to Tomáš Hofer, sales director of security software maker Grisoft.
Hofer's eventual business partner, software developer Jan Gritzbach, first encountered something like a computer virus back in 1988; as a computer technology fan, he was "mesmerized" by it. Three years later, they founded their Brno, South Moravia-based company.
Before the widespread use of the Internet, the main conduit for viruses was floppy disks. The speed of spreading was slow, and anti-virus programs were written specifically to combat individual strains.
AVG, Grisoft's first anti-virus program to protect against multiple viruses, was introduced in late 1991. The company's flagship product is now installed on tens of millions of computers worldwide.
"But I must admit that we weren't such magicians that we knew at that time what a perfect and dependable transport medium the Internet would become for malware [destructive software] — and that it would shift our business into a completely different light," Hofer said.
Original article
---

Add comment

Email to a Friend