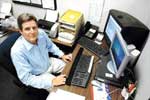 Detective fights online crime
Date:
August 23, 2004
Source:
Star-Telegram
By:
GRAND PRAIRIE
- Darby Byrd is a high-tech detective.
Armed with a computer, Byrd chases international crime scams from his desk at the Grand Prairie Police Department.
It's definitely 21st-century police work.
Swindlers, counterfeiters and other modern-day snake-oil salesmen use gullible intermediaries to fool naive online shoppers, Byrd said.
A recent case, Byrd said, involved a 21-year-old Grand Prairie college student who responded to an online help-wanted ad and was offered a job by e-mail. She agreed to accept payment for items auctioned online and to forward the money to a company in Russia. The company was supposed to pay her 10 percent of the money she collected, he said.
"People started sending money orders and cash," Byrd said. "Soon they were calling, saying they hadn't received the merchandise, and then they contacted the police."
Byrd went to the Grand Prairie address where the checks had been sent and met the college student. She didn't know she was part of a scam and was able to provide documentation and e-mails to back up her story, he said.
"She thought it was on the level," Byrd said, adding that she had forwarded about $7,000 to Russia without receiving a penny.
The student is not facing criminal charges because intent can't be proved, though she may be civilly liable to people who did not get merchandise or to companies that wired money, he said.
"There's not a lot we can do when the bad guy is in Russia," said Byrd, who has been doing high-tech investigations for about four years.
Originally from the Beaumont-Port Arthur area, Byrd lives in Arlington.
Computers were a hobby that turned into a job assignment, Byrd said. His fellow police officers, aware of Byrd's interest and knowledge, often came to him with questions on cases, he said.
Original article
---

Add comment

Email to a Friend