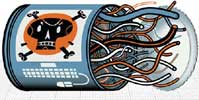 AOL worm
Date:
September 20, 2006
Source:
TechWeb News
A very sophisticated bot that targets AIM users has been spotted while still under construction, a security company said Monday, giving researchers a unique peek into malware making.
Researchers at FaceTime Communications discovered the threat, which spreads through AOL's instant messaging client, and traced its still-under-construction attack profile through servers in the U.S. and South Korea. The exploit remains unfinished, said FaceTime, which found that many of the domains called by initial attack file are missing the necessary infectious files.
At this point, users who click on the Web link embedded in the bogus AIM message and launch the ensuing file may become part of an IRC-controlled botnet, said FaceTime in a research note posted online.
"This attack is very well structured and 'modular' in concept, so the people behind it can shuffle their executables around, download new infections to target PCs, and do pretty much anything else they feel like doing," wrote Chris Boyd, FaceTime's director of malware research.
Original article
---

Add comment

Email to a Friend