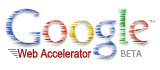 Google hacked
Date:
June 20, 2006
Source:
REUTERS
By:
A new Internet worm capable of stealing bank details and other personal data from users is circulating via Orkut, Google Inc.'s (GOOG.O: Quote, Profile, Research) social networking service, a computer security company warned on Monday.
Instant-messaging service provider FaceTime Communications said its software security lab had detected the spread of the electronic virus, the third such threat to disseminate itself via messages posted on Orkut users personal Web pages.
Google's service, while available globally, is wildly popular among Brazilians which make up the bulk of its users.
The malicious program, dubbed by FaceTime as "MW.Orc," works its way onto users' personal computers when they click on infected links on Orkut scrapbook pages. The link is followed by a message in Portuguese that entices the user to click.
Once the link is activated, a file is uploaded to the PC, according to a description of how the worm works contained in a statement by the Foster City, California-based company.
Original article
---

Add comment

Email to a Friend