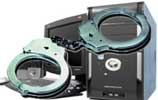 Internet fraud raids in Holland
Date:
November 17, 2005
Source:
expatica.com
Police believe they have struck an important blow against internet fraud following a series of raids across the Netherlands in recent weeks.
Nine 'chief suspects' were held in police raids on Tuesday. Earlier 14 other people were arrested as part of the crackdown on the gangs behind fraud on the internet.
The national police operation was coordinated by the Public Prosecutor's Office in Zwolle and was mainly directed against people who offer goods for sale over the internet but don't deliver after taking the victim's money. An investigation revealed that many victims do not report the fraud to the authorities.
Police seized computers, bank cards and documentation in a series of raids in Amsterdam, Zandvoort, Roosendaal, Roermond, Deventer and The Hague. The police launched the operation after an increase in complaints about internet-based fraud.
Detectives drew up a list of the chief suspects, who usually avoid detection by using account numbers provided by third parties.
Original article
---

Add comment

Email to a Friend