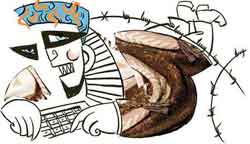 Recruits wanted to fight terrorism
Date:
October 17, 2005
Source:
news.independent.co.uk/
MI6 launched its own website this week. Its aim was to dispel myths about the British secret service - and to attract a new kind of recruit. By the time www.mi6.gov.uk hit the ether, however, Daniel Craig's application to become the nation's most celebrated secret agent was already well advanced. Yesterday it was announced that he is to be the new James Bond.
Fact and fiction have been running in uncanny parallel in recent times. MI6, which prefers to go by its official name of the Secret Intelligence Service (SIS), had decided it needed a new image, much as did the makers of the Bond movies. The official spook website puts it thus:
"SIS is looking for the widest possible range in terms of personal profile and will welcome candidates seeking a career change..."
Which is kind of what the Bond folk want too. In choosing Craig for the 21st Bond movie, a remake of Casino Royale, they have turned their backs on the suave, sophisticated, polished, Eton-educated icon created by Ian Fleming and played by Sean Connery, David Niven, Roger Moore, Pierce Brosnan. They have opted for an altogether rougher diamond.
Daniel Craig was raised in Liverpool where he spent a lot of time as a child with his art teacher mother backstage at Liverpool's Everyman Theatre, then in its leftist heyday with Willy Russell and Alan Bleasdale setting the tone. But he was not academically bright and failed his 11-plus.
After a tough secondary modern he was rejected from Rada, Lamda, the Young Vic and the Guildhall when he first auditioned for drama school. And he has subsequently built a reputation for portraying rough, aggressive characters who are slightly unpleasant - the kind of thing which passes for a noir-ish hero in the lexicon of modern movies.
Successful candidates, says the MI6 website, will have to demonstrate resilience.
Well, Craig did eventually get into the National Youth Theatre and then the Guildhall School of Music and Drama where his peers included Joseph Fiennes, Alistair MacGowan, Rhys Ifans and Ewan McGregor (whom he pipped for the Bond job). And then he demonstrated dogged perseverance through his early acting years, which featured numerous realistic portrayals of Craig playing the role of waiter in various London restaurants. He even slept on occasion, it is said, on a park bench, before beginning to scale the thespian ladder with appearances in such shows as the cosy country copper series Heartbeat.
Integrity, both personal and corporate, is prized.
In the years that followed, Craig put the odd foot wrong. (He did Lara Croft: Tomb Raider only, he freely admits, for the money.) But otherwise a gritty artistic integrity has been one of Craig's hallmarks. He first came to national attention playing the drug-pushing dosser Geordie Peacock in the 1996 BBC TV mini-series Our Friends in the North. He was such a success that he was then deluged with tough northern totty parts which could have made him the next Jimmy Nail. But he turned them all down and went back to the theatre.
In the years that followed he undertook a wide variety of theatre, TV and film parts, many of which paralleled the MI6 website's obsession with history.
British intelligence organisations, the website reveals, goes back at least to the second half of the 15th century. Thomas Cromwell ran secret agents in Europe on behalf of Henry VIII. Sir Francis Walsingham developed expertise in secret interception, as well as maintaining a network of 50 secret agents abroad while Private Secretary to Elizabeth I.
Craig knows this well. He used a rock to smash in the head of one of Walsingham's spies (an improvised moment, according to Craig) in 1998's Elizabeth in which Cate Blanchett played the Virgin Queen. He portrayed a monk plotting against the Queen. And though he recently turned down a mega-money TV series offer to play Biggles, whose career covers a period including the First and Second World Wars when foundations of the Bond-era British Secret Service were laid. Craig then played the head of Nazi Germany's atomic energy programme Werner Heisenberg - he of the uncertainty principle - in the film of Michael Frayn's drama Copenhagen. He also starred in the BBC's adaptation of Robert Harris's novel Archangel about an academic in search of the secret diaries of Josef Stalin, set in another era which figures prominently in MI6's own account of itself.
Original article
---

Add comment

Email to a Friend