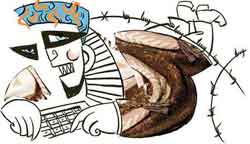 Arkansas center will train in cyberterrorism
Date:
August 17, 2004
Source:
Associated Press
By:
LITTLE ROCK – On a visit to his home state, Homeland Security Undersecretary Asa Hutchinson announced a $34 million grant program that will be shared among 14 groups nationwide to counter terrorism.
The former congressman from Arkansas announced Sunday that the National Center for Rural Law Enforcement in Little Rock was among the 14 groups that will share in the $33.6 million competitive training grant program.
The center grant is the first among the 14 in the program to be announced; the remaining will be named in the next several days.
The center is part of the University of Arkansas' Criminal Justice Institute, and was awarded $2.8 million of the total grant to train rural law enforcement officers to recognize cyberterrorism, preserve the physical evidence as they would any crime scene, and notify the appropriate federal agency.
The money will be used over the next two years to train 1,500 public safety officers nationwide. Jim Clark, director of the Criminal Justice Institute, said his agency hoped to begin the actual training in about three months.
Hutchinson said the national center in Arkansas was a logical choice because the state reflects rural America. He said cyberterrorism presents a threat to the country's security and the operation of utilities, government infrastructure, and commerce.
A majority of the nation's power companies report some kind of "cyber attack" at least once a year, he said. The program out of the Little Rock center will address such cybercrime as computer hacking into sensitive files, computer viruses, and the breakdown in water and sewer systems because of a computer adjustment to the controls, he said.
"Law enforcement needs to be trained more aggressively in this area," Hutchinson said.
Clark said the center was in the process of setting up a national curriculum in cybercrime and cyberterrorism for law enforcement officers.
Hutchinson was in Little Rock to speak at the Southern Legislative Conference.
---

Add comment

Email to a Friend