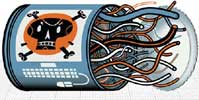 Computer virus on Hawaii
Date:
November 15, 2006
Source:
pacific.bizjournals.com
An e-mail virus that has plagued computers on the Mainland for the past three months has hit Hawaii.
It arrives as an e-mail attachment that masquerades as a vital Windows update, according to James Kerr, president of SuperGeeks, a Honolulu computer consulting company. Once a user clicks on the file, it immediately infects the computer by slowing it down, causing errors and often freezing the entire operating system.
It also sends itself out to all the e-mail addresses inside the user's address book and to all instant messaging contacts.
Kerr says so far it doesn't appear to destroy computer files. But he said SuperGeeks experienced 10 percent more business last week because of it.
The worm is known in the computer industry as "Stration" or "Warezov," although neither name appears in the infecting e-mail.
Original article
---

Add comment

Email to a Friend