Valentine's SpamDay
Date:
February 14, 2005
Source:
Sophos
Anti-spam experts at Sophos are calling on consumers to boycott companies who try to sell them goods via spam in the run-up to St Valentine's Day on Monday 14 February.
In the run-up to the most romantic day of the year, Sophos's global network of spamtraps are seeing thousands of unsolicited bulk emails being sent with the intention of selling Valentine-related products.
Subject lines seen have included: A uniquely engaging Valentines gift idea FREE Valentines Day Chocolates Don't Wait- 15% Off All Valentine Fresh Flowers Valentines Day Gifts for FREE*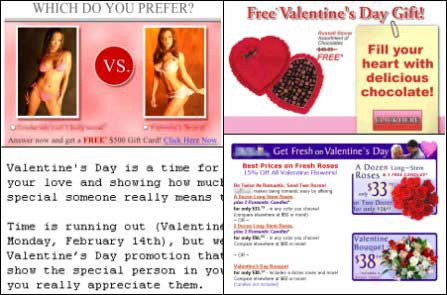 Goods promoted via Valentine-related spam have ranged from skimpy lingerie to chocolates, flowers to pashmina shawls, and even adult board games.
"Everyone says they are fed up with spam on the internet, but it's surprising just how many people do admit they have occasionally bought products sold via spam, or visited websites promoted via bulk email," said Graham Cluley, senior technology consultant for Sophos. "If you buy goods marketed via spam then you are simply encouraging the spammers to send more junk email. If no-one purchased the products then the spammers would disappear. Our advice this Valentine's Day is to visit the local flowershop or cook a romantic meal for two, rather than give money to the companies who think spamming is acceptable."
---

Add comment

Email to a Friend