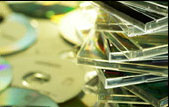 Commercial piracy in Ukraine
Date:
July 13, 2005
Source:
Computer Crime Research Center
The international recording industry today welcomed the adoption by Ukraine of a landmark CD plant law that is a decisive step in the fight against the country's unacceptably high levels of piracy. Ukraine's Parliament Verkhovna Rada) passed the long-awaited Bill of amendments to Ukraine's Law on Laser-readable Discs which is essential to tackle ongoing pirate CD production and illegal exports from Ukraine.
IFPI, representing 1,450 record companies worldwide, estimates that Ukraine's piracy level is 65-70% of the music market. The pirate market in Ukraine is worth an estimated US$42 million, but actual losses to the legitimate industry are far greater.
Ukraine's CD plant capacity of around 50 million discs a year is three times its legitimate demand. The adoption of the law follows sustained pressure from the recording industry and Ukraine's trading partners.
John Kennedy, Chairman and CEO of IFPI, said: "The massive scale of piracy in Ukraine has seriously deterred international investment in this country's copyright sector. We warmly welcome today's decision by the Ukrainian Parliament to reinforce the CD Plant Law and tackle the country's piracy epidemic. This law and its enforcement are likely to have a positive impact on Ukraine's WTO accession bid."
IFPI has kept a regular presence in Kiev in the last five years to offer expert technical and legal assistance to the Ukraine government. Most recently, IFPI met with President Yuschenko in the context of the Eurovision Song Contest Finale in Kiev in May to call on his personal support for the adoption of the bill of amendments.
Stefan Krawczyk, IFPI Deputy Regional Director, Europe, said: "This is great news for the music industry in Ukraine and internationally. Ukrainian and foreign artists, songwriters, record labels and retailers have been losing millions of dollars due to rampant piracy. The passing of the bill today shows that President Yuschenko and his administration are serious about eradicating piracy and supporting the growth of a legitimate industry."
Ukraine's Law on Laser-Readable Discs was first adopted in 2002 as part of the USUkraine Joint Action Plan on Intellectual Property Enforcement. Due to its serious shortcomings, this Law became the focus of current US trade sanctions against Ukraine. The Bill adopted today contains the necessary provisions to bring Ukrainian law up to the required level.
Attempts to amend the CD Plant Law have up until now ended in failure, resulting in continued US trade sanctions against Ukraine. This has also had a negative impact on the country's WTO accession process.
Pressure on Ukraine has also stepped up in Europe in recent years. The European Union has made intellectual property protection a top priority of its bilateral trade agenda with Ukraine. Under the EU-Ukraine Partnership and Cooperation Agreement Ukraine was obliged to bring its intellectual property laws and enforcement into line with the EU by the end of 2001. In recent meetings in Brussels, Geneva and Kiev the EU has been highly critical of the lack of progress towards this goal.
Ukraine was recently cited in IFPI's Commercial Piracy Report (June 2005) as one of the recording industry's Top Ten Priority Countries.
Background
Ukraine was made a Priority Foreign Country (PFC) in 2002, the highest in a league of categories used by the US government in assessing the effectiveness of countries' protection of intellectual property. Under the Special 301 legislation, the United States Trade Representative (USTR) has the authority to impose economic sanctions on countries designated PFC.
Original article
---

Add comment

Email to a Friend