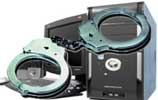 Another e-scam victim
Date:
April 13, 2007
Source:
saljournal.com
A Salina man who was seeking to secure a loan from an Internet company apparently was taken for $5,000 as part of a scam, said Mike Marshall, deputy chief of the Salina Police Department.
Kenneth Blomberg, 39, told police that in early March, he had come across an Internet lending company called Maxems Loans and sought to borrow $15,000. He received a contract in the mail and signed and returned it, but the company then asked for a $5,000 security deposit from Blomberg.
Original article
---

Add comment

Email to a Friend