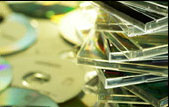 Russia: 80% of software is illegal
Date:
September 11, 2004
Source:
Computer Crime Research Center
By:
Russia: the situation with the pirated software in Russia become settled, director of Non-commercial Software Products Suppliers Partnership Dmitri Sokolov said at the briefing in Kaliningrad. He connected a sensible change for the better with more close than 3 years ago cooperation of the partnership, engaging 160 of IT companies, all across the country and law enforcement to fight violations of copyright and adjacent rights.
One of their joint initiatives was a seizure of 2 million counterfeit compact disks with software, audio and video production in Moscow. Up to 85% of cases intitiated on counts of criminal entrepreneurship in this sphere end up with judgments of conviction, this forces illegal business to run on legitimate bases and to work with official software developers and suppliers. Police have confiscated illegal production for 8 million of rubles ($250,000) and 30 criminal cases have been instigated (a half has been brought to court) for two years of such illegal turnover in Kaliningrad region.
---

Add comment

Email to a Friend