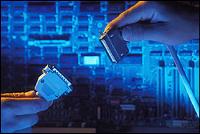 Cyber laboratory on the anvil
Date:
November 08, 2004
Source:
News Today
There is a plan to set up a cyber laboratory to aid Cyber Crime Cell attached to the Central Crime Branch of the city police to further enhance investigative capabilities, R Natraj, City Commissioner of Police, said today.
He was speaking at the inaugural session of the fifth one-day workshop on Combating Counterfeiting organised by Manufacturers' Association of Information Technology (MAIT).
The workshop was aimed at sensitising the law enforcement agencies like police, customs and excise on the increasing counterfeit crimes in IT products and services in the country.
'As counterfeit in software products are intangible to detect, State police have to learn to handle such cases related to IT Act 2004 passed recently. The Central Crime Branch of State police, at present, deals with 1,400 cases of cyber and white collar crimes. But we have to restrict our investigation to such cases,' he said and added that the newly-created Economic Offences Wing had the mandate to investigate into sophisticated cyber crimes.
More important than just awareness of such crimes is acquiring advanced expertise by the police with the help of IT industry, he said.
Even hardware materials were being counterfeited nowadays, besides software piracy, and hence it was essential to get sensitised with training with technology support from IT sector.
'As counterfeit refers to unlawful production and sale of goods, there is a clear case of intellectual property violation. The magnitude and size of counterfeit crimes in IT products and services is yet to be realised in full terms,' said Vivek Harinarain, IT secretary, Tamilnadu government.
Described as the crime of 21st century, IT counterfeit and cyber crimes were 400 times more in value than robberies and other physical crimes in the world.
Vivek said according to conservative estimates, around seven per cent of goods traded in the world was counterfeit. There was also the major problem of jurisdiction as goods were produced, transported and sold in different places. 'The problem does not lie in judicial intervention as criminals will find ways through judicial loopholes. Rather, other areas have to be explored to combat IT counterfeit,' he said.
Prevention of cyber crimes through awareness workshops should be followed up with vigorous training of enforcement agencies with change in mindset, prescription of punitive laws and an idea of 'non-uniform social police to prevent counterfeit of goods can be explored'.
More than 10 lakh people were employed in IT industry in the country and they were sure to face economic death if counterfeit crimes in software products and services were not checked in time, he said.
Earlier, Vinnie Mehta, executive director, MAIT, said that as the consumption of IT products was on the rise, the price-sensitive market was deluged with fake products. 'Around 2.5 million mobile phones are added every month and PC consumption is growing at a rate of 30 per cent adding four million computers each year,' he said. MAIT is undertaking this educative exercise of Combating Counterfeiting at two levels — for enforcement agencies and at individual levels — with help from the Union Ministry of Human Resource Development (HRD).
---

Add comment

Email to a Friend