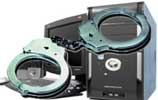 Cybercrime on the rise, Symantec
Date:
March 08, 2006
Source:
money.cnn.com
Cybercrime is on the rise -- and today's attacks are often silent, hard to detect and highly targeted, according to a new survey.
Symantec (down $0.57 to $15.96, Research), which makes anti-virus software for businesses and consumers, found a notable increase in "cybercrime" threats to computer users, according to the latest installment of its semiannual Internet Security Threat Report. Cybercrime consists of criminal acts performed using a computer or the Internet. Symantec also found a rise in the use of "crimeware," or software used to conduct cybercrime.
Cybercriminals are also getting more sophisticated. Attacks designed to destroy data have now given way to attacks designed to steal data outright, often for financial gain, according to the survey, which covers the six-month period from July 1, 2005 to December 31, 2005. Eighty percent of all threats are designed to steal personal information from consumers, intellectual property from corporations, or to control the end user's machine, according to Symantec.
Moreover, today's attackers are abandoning large-scale attacks on corporate firewalls in favor of targets such as individual desktop computers, using Web applications that can capture personal, financial and confidential information that can then be used for financial gain. That continues a trend Symantec found in its survey covering the first half of 2005.
Original article
---

Add comment

Email to a Friend