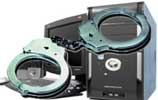 Cybercrime in cyberspace
Date:
May 07, 2007
Source:
chronicle.com
When a crime scene is in cyberspace, forget the yellow tape. Boundaries, along with evidence and procedure, need to be re-envisioned. Or, as Daniel E. Geer Jr. puts it: "'Digital law' is and must be counterintuitive" because our intuitions about the physical world can be misleading when applied to the digital realm.
Mr. Geer's essay on the "physics of digital law" is a fitting start to Cybercrime: Digital Cops in a Networked Environment (New York University Press), a collection of writings assembled by the Information Society Project, at Yale Law School. Editing the book were Jack M. Balkin, a Yale law professor, who is founder and director of the project; Eddan Katz, its executive director; and James Grimmelmann, Nimrod Kozlovski, Shlomit Wagman, and Tal Zarsky, four project fellows.
Original article
---

Add comment

Email to a Friend