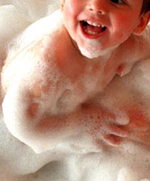 Parents face porn claim risk, says MP
Date:
November 03, 2004
Source:
Sunday Mail
By:
PARENTS sending family pictures over the Internet could be accused of child pornography under planned new laws, the State Government has been warned.
Independent MP Bob Such has written to Premier Mike Rann and Attorney-General Michael Atkinson expressing concerns over the changes, saying parents would be scared of even having their kids "hop into bed with them".
Some had raised with him "their concerns that they could find themselves unwittingly in trouble with the law, simply because they have a family photo of some of their kids naked, or that they have had their children or grandchildren hop into bed with them".
Under the changes proposed by the Government, child pornography offences would attract jail terms of up to 10 years and fines of up to $75,000.
It would also be an offence to photograph or film a child for prurient purposes, regardless of consent or if they were taken in public.
Police would also be given wider powers to conduct surveillance, including on the Internet, to catch offenders.
Parliament is expected to start debating the changes when it resumes on Monday.
Mr Atkinson said "the proposed law has been carefully drafted so as not to encompass family photographs by defining that the material in question is intended to excite or gratify sexual interest".
---

Add comment

Email to a Friend