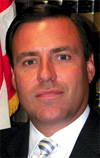 The David Gorcyca Interview
Date:
January 17, 2008
Source:
Spinalcolumnonline.com
By:
January 16, 2008 - Oakland County Prosecutor David Gorcyca is retiring this year, ending a nearly 20-year tenure in the Prosecutor's Office. Gorcyca was first elected prosecutor in November 1996, after hiring into the office in 1988 as an assistant prosecuting attorney assigned to the Circuit Court Division. After attending Brother Rice High School in Birmingham, Gorcyca earned a pre-law degree from Michigan State University in 1984. His Juris Doctorate degree was earned from the Detroit College of Law in 1988. Gorcyca also set up a civil practice in the early 1990s, and from 1993 to 1996 served as a Royal Oak Commissioner. He recently spoke to the Spinal Column Newsweekly to reflect on his days in office and chat about his future.
SCN: You've been employed in some fashion with the Prosecutor's Office since 1988 and you've recently decided to retire from the top spot. What has prompted you to make that decision? What's next for you? Are you retiring to private practice or do you hold other political aspirations?
Gorcyca: I was elected in 1996 and before that I served as assistant prosecutor, so I've had a little over 15 years in office. I just feel for myself personally and professionally, I'd like to pursue a new challenge. I love this job. I love the people I work with and helping crime victims and working with law enforcement. I think there's a certain point in everyone's career where you have to assess the direction you want to go and when I ran, I never really contemplated being a career prosecutor. I just think it's time for a change. Perhaps the office could use some new direction and leadership and new tutelage. It might benefit the office, as well.
Right now, I have no further political aspirations, although I remain involved with the party, the Republican Party and certain causes and candidates I believe in. But I have no plans to pursue any other elected office. Now for my future employment opportunities, I've really not gotten serious about discussing those with anybody in particular yet. Obviously I've made myself unemployed in a very difficult job environment. Hopefully somebody can utilize my services.
SCN: We've heard that your wife, Lisa, is running for an open seat on the county's circuit court bench. How did that play a role in your decision to retire? What will that mean for the Gorcyca family?
Gorcyca: Actually, my decision to retire was independent of and was made prior to her's. In fact I announced almost immediately after my last re-election I would not seek another term, which was about three years ago. Lisa only recently decided to, in the last year, pursue one of the two open circuit court seats. She has vast experience. In fact, she has more experience as a prosecutor than I do. It's something that's a dream of her's to pursue. I guess it's out with the old and in with the new and improved.
I think, for Lisa, it will be a different challenge for her on the career spectrum. It's something I know she would enjoy. I know she's a people person and likes to deal with differing and divergent issues, whether it be a family issue or a criminal issue or child support issues. Child custody issues I know are right up her alley. She's very people-oriented and is very conscientious about her job.
SCN: You've seen and have been involved in some of the most memorable and interesting criminal cases this county and state have ever had. Which one sticks out, and why? Which one will you remember most? Is there one you wish you could forget? If so, why?
Gorcyca: The ones that immediately jump out at me include the "Malice at the Palace" case, I guess, as it's not so affectionately referred to. That garnered more statewide, national, and international attention than even the Jack Kevorkian case did, which is also of interest nationally and inter-nationally. I received a lot of phone calls from around the world on both those cases. Another one that comes to mind is Nathaniel Abraham. Those are probably the three most high-profile cases I've dealt with that had an international flare or interest. Those are probably the three that come to mind very quickly and are at the top of the list of difficult, contentious, high-profile cases.
Probably sitting in here in my office with about 20 or 30 assistant prosecutors watching the Kevorkian verdict (is the case I remember most). I stuck myself out in the forefront on that issue and he had been acquitted up until that time in every case he'd been tried on and it was very emotional. For me, there was a lot of investment made on behalf of the office, and myself personally and politically. I felt like I did the right thing but it was probably the most difficult and emotionally draining case that I've confronted, just because of the nature of the issues. Much like abortion, everyone had an opinion either for or against (assisted suicide). People either firmly believe in the right to end their lives or that it was a right to life issue. So, it was high-profile and ... a lot of lost sleep.
Wish I could forget ... well, probably the Joseph Puertas case — I guess the fact that he, years ago, had a new trial, got out, conducted drug dealing again and it took eight years for justice to be done and a lot of appeals, the taxpayer expense to get him back incarcerated for his second drug dealing convictions. There was a lot of legal wrangling between my office and the defense attorneys, the courts, the federal courts granted him habeas corpus, let him out and allowed him to be out or almost eight years after his conviction. Now he's seeking a commutation of his sentence and he's not even been in a year. I think it was a disservice to the taxpayers of Oakland County due to the fact that he was granted a new trial and then granted habeas corpus and let out by the federal court. That one was really problematic and troublesome to me, to see that an individual could manipulate the criminal justice system to keep him out on the streets even though he'd been a twice-convicted drug dealer and had an admitted gambling operation and tax-skimming operation. In the end justice prevailed, but it's certainly caused a lot of work on behalf of a number of prosecutors and a lot of taxpayer expense to see that he was finally incarcerated for the offense he committed.
SCN: So far, which aspect of the job has been the most rewarding for you? What would you like to accomplish during your remaining time as prosecutor?
Gorcyca: Helping crime victims is very rewarding in obviously non-financial ways. Getting letters from victims and families, even some cases that I'm not directly involved in, thanking the office for assisting them and providing them justice. It's also nice to wear the white hat and work with law enforcement in the grandiose scheme of things. I think I've had the benefit of great trial staff who puts up and shuts up and if we don't offer a plea bargain, we'll go to court and eight out of 10 times we're going to convict a defendant, which is an astonishing figure nationally when you have a no plea bargaining policy eight out of 10 times. I'm very proud of the staff and the people I work with and it's been very enjoyable; but the times around here and the state are very difficult and whomever assumes this office will have to make some difficult personnel decisions. I didn't contemplate that when I decided not to run (for re-election), but with lean economic times and now the hiring freeze that's been instituted for the county, we can't even transfer people or provide them raises or promotions. I think in the future property tax (revenues) will continue to decline and our ability to service the systems of Oakland County will be greatly impacted.
I'd like to maintain our high conviction rate, our ability to serve crime victims and the law enforcement community and their needs. But being realistic, I know that I've lost the bullyproofing program. I'm likely to lose the Teen Court program. I'll probably lose the adult and juvenile drug treatment programs. If I can keep those programs around and viable before I leave, that would be an accomplishment. Right now we're fighting for every dollar and I just want to be able to meet the demands of the criminal justice program and the crime victims and the citizens of Oakland County, which is becoming increasingly more difficult to do.
SCN: One of the biggest challenges facing law enforcement today has got to be the emerging technology sector, which can aid those wishing to break the law. How have computers, telecommunications, and the like influenced the way law enforcement professionals carry out their duties? What are some of the best tools to combat that trend? How do you walk that fine line between privacy, law enforcement, and citizen rights in dealing with computer crimes?
Gorcyca: It seems that, unfortunately, statutes and law enforcement are slightly behind the curve when it comes to apprehending and catching up on technology that the criminals are utilizing. For instance, during the Christmas and the Holiday shopping season, criminals (were) going around with decoding devices that can pick up and scan the information off the back of your credit card magnetic strip and then take than information and create a card and utilize that information to exploit someone's credit rating, as well as exploit them financially. And yet we in law enforcement don't have the ability to detect who's doing it. We don't have the technology or machinery. Computers, particularly pedophiles, travelers who for instance are ... we've apprehended two people from Europe and many from out of state who begin to exploit children and eventually travel here for nefarious reasons to exploit children sexually. (Enforcement) is difficult because...
---

Add comment

Email to a Friend