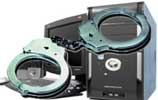 PC Security List
Date:
March 30, 2007
Source:
thestreet.com
By:
In November 1988, I was sitting in Cornell University's computer science lab working on a research project. Next to me, a grad student with bushy, brownish-red hair and glasses had his head down on the table, sleeping, I assumed.
After about a half-hour, I peeked at what he had been writing on his screen. "I miss you" was the only thing written on an open email document.
A few days later, all the computers at Cornell went down. My mother, who at the time was working at Siemens in New Jersey, called to tell me that all of the computers there had crashed and everyone was leaving work early.
In fact, that day, almost all of the computers in the country connected to the Internet went down. It was the first major Internet virus, dubbed "The Internet Worm." It brought down the entire Net pretty much all over the world for a day.
The day after the widespread shutdown, FBI agents were all over the computer science department at Cornell. It turns out the student who had been sleeping at the computer next to me a week earlier, a guy named Robert Morris, had written the Internet worm and unleashed it on the world, causing, as one headline suggested, "$1 billion in lost productivity."
I dispute that dollar estimate, but given the extent to which the Internet has now taken hold over so many aspects of our lives, that figure likely would be much higher if a similar virus were unleashed today to the same effect.
The worm was not a malicious terrorist act as some papers suggested. It turns out it was simply a program gone awry, one never intended to have the harmful effect that it had. And once the furor had died down (Morris was given probation and community service time), the papers went on to pursue other, more important matters.
Even 20 years later, the threat of another large-scale Internet virus taking advantage of hundreds of security loopholes that exist on each of our personal computers remains. In fact, the threat is large enough that it's worthwhile to look at the public companies that stand to benefit from this threat.
To that end, I have set up the Computer Security Index, a portfolio of stocks that I believe are both cheap and good for this security play, regardless of the economy.
Of the stocks I compiled, Symantec (SYMC - Cramer's Take - Stockpickr - Rating) stands out.
Like many good companies, Symantec got hit by a failed integration of an acquisition. The idea behind the purchase was correct: "Let's buy Veritas, a provider of storage software, because every corporation that needs to enhance its storage systems also will need to secure that stored data."
Symantec probably reasoned that those companies would use either Symantec or a competitor like Microsoft (MSFT - Cramer's Take - Stockpickr - Rating).
The integration, though, has progressed more slowly than people believed it would, despite initial excitement about the idea. As a result, the stock has faltered. What intrigues me, however, is that Symantec has faltered to the extent that quality value-oriented and activist hedge funds have been scooping up shares of the stock.
Symantec has a $15 billion market cap, almost $1 billion in net cash and more than $1.5 billion in cash flows, giving it a multiple-over-cash-flows of less than 10. And analysts are expecting solid growth, despite the integration troubles with Veritas. Analysts expect earnings to climb from 95 cents a share in the year ending March 2007 to $1.10 for the year ending March 2008.
Additionally, the list of those accumulating the stock reads like a who's who of value investors.
For one, Carl Icahn lists the stock in his recent regulatory filings. Icahn, probably the most active activist right now, recently has taken aggressive stances in Motorola (MOT - Cramer's Take - Stockpickr - Rating), WCI Communities (WCI - Cramer's Take - Stockpickr - Rating) and others. You can see his most recent investing activity by checking out the Carl Icahn portfolio on Stockpickr.
Symantec is also among the holdings of deep-value investor Bruce Sherman of Private Capital. Sherman, as I've mentioned before, is particularly known for investing in the sorts of value companies that end up being bought by Warren Buffett's Berkshire Hathaway (BRK.A - Cramer's Take - Stockpickr - Rating).
Extreme activist investor Bob Chapman of Chapman Capital also has been accumulating the stock, although he hasn't actively called for change. Chapman has been active recently in eSpeed (ESPD - Cramer's Take - Stockpickr - Rating) and Embarcadero Technologies (EMBT - Cramer's Take - Stockpickr - Rating).
My guess is if Symantec's stock stays down at these levels, the above-mentioned investors will start clamoring for change. They will want a buyback program, perhaps an increased dividend, and they'll want the company to put itself up for sale.
Oracle (ORCL - Cramer's Take - Stockpickr - Rating) and Microsoft, among others, would be possible buyers. Symantec was among the companies I offered as possible acquisition targets for Oracle in a recent Stockpickr column and in a portfolio I created called "Who Should Oracle Buy?" The stock can easily see 30%-40% gain from these levels over the next year, particularly as growth kicks back in.
For the rest of my Internet security picks, check out the Internet security portfolio on Stockpickr.
Returning to our Internet worm friend, things did not end badly for Robert Morris. After dropping out of Cornell's grad school, doing his community time as sentenced by the judge and staying out of trouble for a few years, he started a company called Viaweb that helped automate the process by which merchants could create online stores.
Morris sold the company in 1998 to Yahoo! (YHOO - Cramer's Take - Stockpickr - Rating) for $45 million, and it still exists to this day as Yahoo! Stores. He went on to get a Ph.D. at Harvard and now has tenure at M.I.T. Not all terrible events have such a happy ending, but when the basic building blocks are there, good things can happen.
Please note that due to factors including low market capitalization and/or insufficient public float, we consider eSpeed and Embarcadero Technologies to be small-cap stocks. You should be aware that such stocks are subject to more risk than stocks of larger companies, including greater volatility, lower liquidity and less publicly available information, and that postings such as this one can have an effect on their stock prices.
Original article
---

Add comment

Email to a Friend