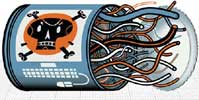 Computer virus watch: many users don't use antivirus
Date:
August 09, 2006
Source:
marketwatch.com
By:
Computer virus, spyware and phishing scams hit millions of Internet users every year, costing them hundreds, if not thousands of dollars in repair and replacement costs, but a good portion of consumers don't use tools to fight such threats, according to a new Consumer Reports survey.
Overall, 29% of online households said they were hit by a virus, spyware or phishing scam in the past two years, causing serious computer problems and often a hit to their pocketbook, according to the survey of about 2,000 U.S. households with Internet access.
About one in four Internet users said a virus infected their computer in the past two years, costing victims a median $109 to fix the problem, with some consumers reporting losses in the thousands of dollars. About one-third of those hit by viruses said the infection forced them to reformat their hard drives, 16% said they lost important data, and 8% had to replace hardware.
About one in eight consumers faced a serious problem from spyware, such as losing files or having to reformat their hard drive, forcing them to spend a median $100 on repair and other costs.
The good news is that the incidence of infection from viruses or spyware dropped slightly from last year, though it's too early to call it a downward trend, said Jeff Fox, technology editor for Consumer Reports.
"It was a small decline. We still feel the problem is severe and that it's more important right now to urge people to protect themselves," Fox said.
"Consumers are really on their own," he said. "It's really up to people to protect themselves. That's why consumer education is so important. If you don't protect yourself, chances are nobody's going to do it for you."
Most consumers were able to avoid financial losses from phishing e-mails, messages purporting to be from reputable banks and other companies which instead direct consumers to fake Web sites where scammers collect consumers' personal and account data.
Less than 1% of survey respondents said they lost money to such a scam. Still, those who did lose money to phishing scams faced a median loss of $850, the survey found.
The Consumer Reports survey also pointed to a problem that's potentially more worrisome than a hit to one's bank account: Spyware that's used to spy on others. Key loggers that are installed on people's computers can record a victim's keystrokes and send the information to another computer, Fox said.
"When people think of spyware most people are thinking pop-ups and maybe 'my browser is not working right,' but there's a not-so-insignificant incidence of ex-spouses and ex-boyfriends and ex-girlfriends using spyware to spy," Fox said.
Still, consumers with a minor in the house are likelier to encounter spyware on their computer, as are people who use file-sharing sites such as Kazaa, Fox said. Those were two of the most significant risk factors for spyware, Fox said.
"Each one of those separately will increase your likelihood of spyware," he said. Minors not only tend to use the file-swapping sites to find music, but they "also go to entertainment and gaming sites and tend to download free utilities. They also tend to be less cautious than adults," Fox said.
For more information on avoiding online threats, Consumer Reports is setting up a free online-security information site for consumers. The site should be up and running by Monday evening, Fox said. www.consumerreports.org/security.
Also, Consumer Reports tested a variety of antivirus, antispyware and antispam software. Below are some of their top picks.
Tools to consider
For a tool that combines antivirus, antispyware and antispam protection, Consumer Reports likes Zone Labs' Zone Alarm Internet Security Suite (about $70).
Another option Consumer Reports suggests: Trend Micro's PC-cillin Internet Security ($50) for antivirus and antispam protection, combined with Spybot's free Search and Destroy antispyware tool.
For antivirus software, Consumer Reports' top five picks are BitDefender's Standard product ($30), Zone Labs' ZoneAlarm Antivirus ($30), Kaspersky Labs' Anti-Virus Personal ($50), Norton Antivirus ($40) and Norton Antivirus for Macintosh ($50). If you're looking for a free product, Consumer Reports particularly liked Alwil's Avast! Antivirus.
For antispyware software, Consumer Reports' top five picks are F-Secure's Anti-Spyware 2006 ($60), Webroot's Spy Sweeper 4.5 ($25), PC Tools' Spyware Doctor 3.8 ($30), Trend Micro's Anti-Spyware 3 ($30), Lavasoft's Ad-Aware SW Plus 1.06 ($30). Plus, as a free program to run in addition to a paid product, consider Spybot's Search and Destroy 1.4.
For e-mail programs that come with spam filters, Consumer Reports likes Microsoft's Outlook 2003 and Apple's 0S10.4.6 Mail. Add-on products that Consumer Reports pointed to as top buys include Trend Micro's Anti-Spam Pilot (stand-alone version, free), Allume System's SpamCatcher ($30) and Cloudmark's Desktop ($40).
Original article
---

Add comment

Email to a Friend