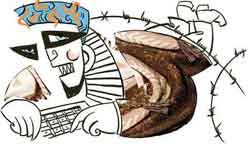 Is Cyberterrorism A Threat For Today?
Date:
March 29, 2005
Source:
Star-Telegram
By:
Cyberterrorists are not a serious problem now, but they will be someday, a computer security expert says.
The spooky and vague notion of cyberterrorism is a nonthreat that is overhyped by the media, computer security expert Marcus Ranum said Tuesday.
The reason is simple, he said.
"For terrorists to succeed, they have to scare you," Ranum said. "How many of you are scared when your cellphone doesn't work?"
Ranum spoke to about 70 people at the Tucker Technology Center at Texas Christian University at a lecture titled "Hacking and Terrorism: The Problem of Defending an Infinite-Length Wall."
Ranum is a veteran computer security consultant and is recognized as the inventor of the proxy firewall, a widely used system that prevents unauthorized access to computers via a network.
Ranum listed several reasons why he believes that it would be wildly impractical for terrorists to use the methods of hackers to strike fear.
For one, the Internet has become so segmented that the logistics of an attack causing widespread damage are not cost-effective to a terrorist.
"Is it more cost-effective to train yourself a cadre of cyber-ninjas or is it more effective to find idiots who will believe in your cause and wrap themselves in plastic explosives?" Ranum asked.
Ranum said hackers could easily shut down large parts of the Internet in little time and at some point likely will. But he isn't concerned.
"My guess is [the Internet will] probably be back in 10 minutes," he said.
Cyberterrorism likely will become a legitimate concern in the future, he said.
"On one hand, I don't think we have to worry about cyber-terror very much, but on the other hand, I think we're pretty vulnerable to it," he said.
For example, parts of our infrastructure such as sewage systems are recklessly insecure, Ranum said. And the massive electrical blackout on the East Coast in the summer of 2003 showed how a system became so complex that a vulnerability went undetected, he said.
"As things become more complex, we're losing track of the connections," Ranum said. "There's a dimension of social responsibility that has been ignored."
TCU's computer science department invited Ranum to lecture because its students will have to confront the complexities of hacking and terrorism, department chairman Dick Rinewalt said.
"This is a problem that has no easy solution," Rinewalt said. "You plug one hole and another appears off somewhere else."
Ranum, a critic of the U.S. Department of Homeland Security, is the author of The Myth of Homeland Security, which was published in 2003.
Original article
---
Add comment
Email to a Friend