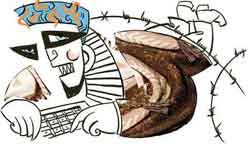 Terror goes through web threats
Date:
August 28, 2006
Source:
english.www.gov.tw
Police tightened security around the Taipei Railway Station, the Presidential Office building and the Presidential residence from late on Saturday night to Sunday at noon after messages were posted on a Web site threatening to bomb and set fire to the two locations.
Taipei police said that two messages posted in a chat room on the Yahoo Web site threatened to make the attacks on Saturday at 11 p.m.
The messages contained instructions on how to make bombs and also said that bombs had been placed at Taipei Railway Station.
The Railway Police Bureau, informed by security agencies of the threat, initiated a security sweep through the station on Saturday night.
Officers used detectors and police dogs to check suspicious boxes, packages and bags.
Police also body searched some passengers.
Original article
---
Add comment
Email to a Friend