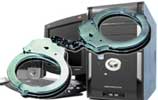 E-fraud in India
Date:
March 18, 2007
Source:
hindu.com
The system of e-commerce has a long way to go before it becomes a reliable means of buying products and services in India, Consumer and Civic Action Group trustee and advocate N.L. Rajah said on Saturday.
Releasing a CAG report on `Protecting Online Shoppers' on the occasion of World Consumer Rights Day, he said there were many illegal practices in online trading in India. Not least among them were issues of privacy, details of overall price, warranty, providing proof of purchase and a forum for buyers to register complaints.
Another study done by the CAG on potential trade on the Internet and e-commerce websites had showed that 73 per cent of them allowed several modes of payment, only 7 per cent offered guarantee for products sold and 60 per cent had no mechanism to register complaints. There were very few redress mechanisms, and even their implementation was not enforced. The number of cases (e-fraud) that the Central Bureau of Investigation had registered was less than 50, and only one had reached the prosecution stage. The lack of experience of cyber forensic specialists compounded the problem, Mr. Rajah said.
Original article
---
Add comment
Email to a Friend