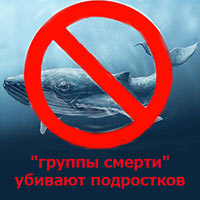 Teen 'Suicide Games' Send Shudders Through Russian-Speaking World
Date:
March 10, 2017
Source:
Computer Crime Research Center
... orphanage where several wards were playing.
Natalya Lebedeva, head of an online consulting project called Your Territory Online, says her organization regularly provides consulting to teens who are playing or who are concerned about their friends.
"When a child gets into this game, he is not immediately asked to commit suicide," Lebedeva says. "But the tasks are such that they drive children into a state of helplessness and create an oppressive atmosphere. And when we are talking about children who already have some particular problems, these tasks can make their situation worse and increase their risk of suicide."
Lebedeva says her group conducted 1,400 consultations in January, about 20 of which involved minors with suicidal thoughts.
Psychologist Marina Slinkova agrees that Blue Whale-type games are a concern, but they don't lead children to suicide on their own. "I don't think that the only dark spot in the life of such a child is the Internet," she tells RFE/RL. "If everything is OK in his life but he suddenly gets involved with these groups, I don't think they can take over his mind to such an extent."
"But if they have no one to talk to, if they feel completely alone, such youths can find some sort of support there."
In The Real World?
Many participants in the Blue Whale game say they are threatened by curators when they try to leave the game. One participant received a message saying, "Your mother won't reach the bus stop tomorrow" -- which frightened her because her mother actually does commute to work by bus.
A player who identified himself as Ivan tried to quit the game by blocking his curator. But he received a message from another account saying, "You can't hide from us." However, he blocked that account as well and the matter ended there.
Many Blue Whale players are convinced -- wrongly -- that curators have access to a program that lets them convert the players' Internet-protocol (IP) address into a geographical location. However, there are no reported incidents of any Blue Whale incidents occurring in the nonvirtual world.
In the course of its investigation, RFE/RL chatted online with more than a dozen Blue Whale participants, none of whom had advanced very far in the game. They described typical tasks as drawing a whale on one's body or on paper, cutting a vein, or carving a whale or other symbol on one's arm. Many said they found appropriate photographs on the Internet or created them with graphics tools.
Several of the players complained of "false" curators. Stefan, a 15-year-old from Solikamsk, in Russia, says three different curators gave him as his second task the assignment of sending them 200 rubles ($3.50). He didn't have any money, so he blocked them.
The majority of players told RFE/RL they got involved either to "mess with the curators" or just because "it seemed interesting." A few gave darker responses.
"Do you want to die?" the RFE/RL correspondent asked one girl. "Yes," she answered.
But before the conversation could continue, her account was blocked.
---
Add comment
Email to a Friend