INSTEAD OF FOREWORD
         A business trip to the USA by the Ukrainian researchers to participate in an international scientific conference and make research exchange related to the cyber crime prevention was provided for in the Research Program, US-Ukrainian Partnership between Ukrainian Academy of Legal Science and US National Institute of Justice (NIJ) and in the "Grant" budget of 1999. Better to say that the travel planned was funded by the USA for developing the research partnership, rather than at the expense of the Ukrainian budget.  The Ukrainian researchers won the grant for the travel in the research papers contest.
Based on research conducted during January-June 2000 the Zaporozhskaya research group consisting of V.A.Golubev, N.D.Krasnostup and V.K.Bronnikov got the results evident of some drawbacks in the drafts developed by various international organizations, which do not take account of certain peculiarities of information technology development in different countries. Such drawbacks can impede the world community to establish effective International Infrastructure for Global Security Incident Response. To make a unified policy to solve the cited above problem some round tables were planned to conduct with the interested parties in the USA to develop certain basic recommendations for organizing one or several Ukrainian Incident Response and Security Teams.
As it often happens circumstances changed as well as the membership of Ukrainian scientists (being an interested party I would not comment the final decision taken in Kharkov and Washington as to the subject of the meeting and the participants). Finally the delegation included: V.A.Golubev, Zaporozhje, G.A.Matusovsky and E.V.Bodiansky, Kharkov, M.S.Vertuzaev and P.D.Bilenchuk, Kiev. Before Boing-737 took off at airport "Borispol" and set course for Amsterdam I as  «unofficial leader» of the Ukrainian group had have to spend much force on arranging about the stay term, the finding of the travel and other organizational questions. Altogether I sent 42 e-mails to Academy of Law Sciences of Ukraine, Kharkov and US National Institute of Justice, Transnational Crime and Corruption Center, American University and Florida Association of Computer Crime Investigators during four months (July 1 – December 11, 2000).
<![if !supportEmptyParas]> <![endif]>
HELLO, WASHINGTON!
Gone through all formality connected with the travel and received the visa at last on November 27, 2000 Boing-737 (flight PS-101) took course for Amsterdam from "Borispol". The flight to the capital of Holland passed fast and at 11.30 by local time, changed for the huge Douglas DC-10 (flight KL 6035) we flew to distant America.
We landed safely at 14.20 on the schedule at the airport of Dulles, Washington, DC. Hello, America! Hello, Washington!
The beautiful city of Washington D.C. is the capital of the United States and the centre of its government. The capital was named after the first president George Washing­ton and was founded in 1790. It is situated on the Potomac River in the District of Columbia. Washington is not the largest city in the USA. It has a population only 900000.
Washington D.C. has nothing characteristically Ameri­can in it, as its conception is purely French. It has long wide avenues, gardens, beautiful parks and no skyscrapers at all.
Washington is the residence of the President and the Con­gress of the USA. The White House is the President's residence, the Capitol - the seat of the American Congress. The largest and the tallest among the buildings is the Capitol with its great House of Representatives and Senate Chamber. There are no scyscrapers because no other building must be taller than the Capitol. All american presidents except George Washington (the White House was not yet built in his time) have lived in the White House. It was built in 1799.
Washington is a large scientific and cultural centre, where there are many research institutes, five universities, the Na­tional Academy of Science and the Library of Congress.
Washington welcomed us by warm and sunny weather. Unless Evgeny Bodiansky lost his suitcases we had a nice trip. After going through Customs we were welcomed by Dr. Vladimir Brovkin (Transnational Crime and Corruption Center), who brought us to The George Washington University Inn hotel in the center of Washington in his 7-seater Ford. It turned out that I shared a double room with Prof. Dmitry Bilenchuk from Kiev (Photo 1).
The following morning while V.Brovkin was getting out of routine traffic congestion we had an hour on hand and decided to commit our first going out from the hotel (Photo 2). Gathered in the hall we first of all had our photo taken, then set out in search of a snack bar. It is necessary to note that the quality of food and price is within reasonable limits. Taking into account that Bilenchuk and I are not afraid of gaining weight we ate two big burgers and wash down with black coffee and pudding.
Returned to the hotel and shared impressions about the first hours of our stay in America we went to Transnational Crime & Corruption Center at American University together with Dr. Brovkin arrived later. Welcomed by Louise Shelly, Karen Saunders and other colleagues we shared opinions in brief. Then the first meeting with James P. Kerins, III, President of National Cyber Fraud Combat Center was held according to the trip program (Photo 3,4,5).
In the afternoon the meeting took place in FBI Academy, Quantico, VA. As usual Dr. Brovkin, our guide, interpreter and research adviser, took us to the set point at the appointed time. Gone through a short-time registration we met with Mr. Jeffrey P. John, officer of FBI Academy (Photo 5). I had already become acquainted with Jeffrey P. John under discussing anti-cyber crime problems by e-mail.
I should note that the academy pay great attention to training experts in cyber crime investigation. According to Jeffrey P. John it is of paramount importance for both Ukraine and the USA to develop international collaboration to train law enforcement personnel for combating cyber crime.
After questions and answers, thanks and handclaps all participants of the meeting got the presents, videocassette «Cyber Crime Fighting», CD «Fighting Cyber Crime», recommended by FBI Academy as a cyber crime investigation game-simulator and CD «Cyber Protect», an interactive simulator for ensuring computer system protection. After handclaps and farewell we set for the capital of the USA.
We were coming back to the hotel when Washington was illumined with numerous lights of street advertising. Our second stay-day was over.
On November 29, 2000 according to the trip program we had the meeting at FBI Headquarters, NIPC. At that appointed time we arrived at Pennsylvania Avenue, 935, where Don Cavender, FBI officer welcomed us. He briefly acquainted our group with his research. Then the American colleagues told us in detail about the problems as to US National Infrastructure Protection.   The slides shown and statistics provided were conclusive proof. They told us minutely with the activity of NIPC, which is the partnership between federal agencies and private companies and a main tool for the government to prevent and response computer criminals' attacks against national critical infrastructures including telecommunication, energy, transport, banks, financial establishments, emergency services and governmental sector. One of the examples given was the case when some German hackers from had gained access to the top-secret information network, which connected National Aeronautics and Space Administration (NÀSÀ) with respective organizations in Great Britain, France and Japan. Found out a loophole in the security and control system of the cited above system by chance the attackers intruded into the global network under code name "SPAN" founded by NASA.
Since 1979 US Administration has pursued the specially developed strategy aimed at eliminating possibility of wiretapping as the later causes significant damage. For example, after the private users' codes are intercepted, it is no trouble at all for intruders to steal any tidy sum.
The obvious case was given to demonstrate threat of the cited above intercept.  Abusing his office some employee of the Beverly-Hills Bank (California, US) easily intercepted codes in the network. During six days he illegally transferred $1.100 million to his account. After that he escaped. In eight weeks the FBI arrested the criminal. The following remark attracted my attention. Direct intercept is carried out through peripheral telecommunication channels or by immediate hookup to peripheral lines.
<![if !supportEmptyParas]> <![endif]>
<![if !supportEmptyParas]> <![endif]>
<![if !supportEmptyParas]> <![endif]>
<![if !vml]>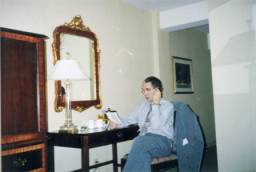 <![endif]>
<![if !supportEmptyParas]> <![endif]>
Photo 1. In number of hotel The George Washington University Inn
<![if !supportEmptyParas]> <![endif]>
<![if !vml]><![endif]>
<![if !supportEmptyParas]> <![endif]>
Photo 2. From left to right: M.Vertuzaev, K.Sonders, E.Bodjansky, G.Matusovsky, V.Golubev, P.Belenchuk
<![if !supportEmptyParas]> <![endif]>
<![if !vml]>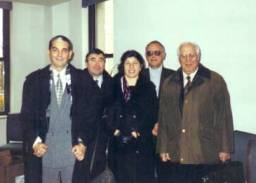 <![endif]>
<![if !supportEmptyParas]> <![endif]>
Photo 3. In the center of photo Dr. Louise Shelly
<![if !supportEmptyParas]> <![endif]>
<![if !vml]>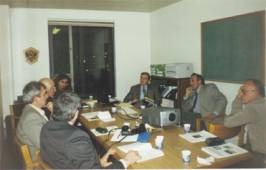 <![endif]>
<![if !supportEmptyParas]> <![endif]>
Photo 4. A meeting with the president of the National Center
of Fighting Electronic Fraud by Mr. James Kerins
<![if !supportEmptyParas]> <![endif]>
<![if !vml]>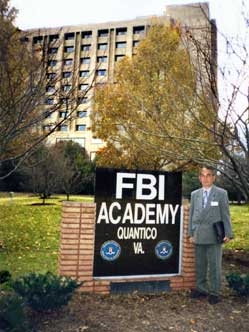 <![endif]>
<![if !supportEmptyParas]> <![endif]>
Photo 5. Academy of FBI, Quantico, state Virginia
<![if !supportEmptyParas]> <![endif]>
<![if !vml]>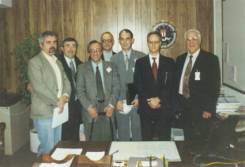 <![endif]>
<![if !supportEmptyParas]> <![endif]>
Photo 6. From left to right: Dr.Bodjansky, Dr.Belenchuk, Dr.Brovkin, Dr.Vertuzaev, Dr.Golubev, J.John , Dr.Matusovsky
<![if !supportEmptyParas]> <![endif]>
<![if !vml]>
<![endif]>
<![if !supportEmptyParas]> <![endif]>
Photo 7. In one of the Chinese small restaurants
<![if !supportEmptyParas]> <![endif]>
<![if !supportEmptyParas]> <![endif]>
At that the objects of intrusion are cable and wire systems, ground microwave systems, uplinks and special governmental communication services. It is impossible to solve this problem, even for the USA, without harmonizing national legislations and developing mechanisms of transnational cyber crime response. Summing up the meeting it was outlined that anti-cyber-crime combat requires high standard of knowledge and complex technique. Abusing the global Internet network unauthorized access can be gained at velocity of light. A criminal launches attack against a victim in less than a minute while they both can be in different jurisdictions. That's why an effective solution can only come in the form of international collaboration under improving information exchange about transnational cyber crimes and founding Response Teams.
Questions, answers and souvenirs were interchange. The American colleagues presented each of us the colorful booklets about the activity of US National Infrastructure Security Center and the statistics on cyber crimes between 1997-2000 (2000 CSI/FBI Computer Security and Security Survey).
Even between numerous meetings and talks we managed to sleep and eat, eating out at roadside snack bars, the dining-hall at American University, sometimes at an Italian or Chinese restaurant. 
Americans eat a lot. They have three meals a day: break­fast, lunch and dinner. Most of Americans don't eat home but prefer to go to res­taurants. They can choose from many kind of restaurants. There is a great number of ethnic restaurants in the United States. Italian, Chinese and Mexican food ievery popular. On a photo 7. In one of the Chinese small restaurants.
An American institution is the fast food restaurant, which is very convenient but not very healthy.
However there are some principles of American cuisine (if we may call it so). Americans drink a lot of juices and soda, eat a lot of meat, fruits and vegetables, not much bread. In the morning Americans have cereal or scrambled eggs, i milk or orange juice. Chicken or fish, fried potatoes, vegetable salads, and desert: this is the most common menu for lunch. Dinner is probably the most important meal of the  day, some people have family dinner, when all members of family have to be there. For dinner Americans usually have meat, fried or baked potatoes with ketchup or sour cream, corn, peas, sometimes macaroni and cheese or spaghetti; ice-cream, fruit or cake may be for dessert.
<![if !supportEmptyParas]> <![endif]>
 The third day drew to a close. But the main event of our trip was yet to come - on November 30 and December 1 International Conference «TRANSNATIONAL CRIME, CORRUPTION & INFORMATION TECHNOLOGY» was held Transnational Crime & Corruption Center at American University, Washington.
To be continued!
<![if !supportEmptyParas]> <![endif]>
<![if !supportEmptyParas]> <![endif]>
<![if !supportEmptyParas]> <![endif]>
<![if !supportEmptyParas]> <![endif]>