<![if !supportEmptyParas]> <![endif]>
           Vladimir A. Golubev., Vladislav D. Gavlovsky., Vitaly Cimbaluk. Security Information: problems of struggle with crimes in sphere of usage the computer technologists.– Zaporozhye.–"Prosvita", 2001.-309 p. ISBN 966-653-037-12 
/Under common edition Dr., Professor Andrea R. Kaluzney/.
<![if !supportEmptyParas]> <![endif]>
          ABSTRACT
<![if !supportEmptyParas]> <![endif]>
         In the monograph are opened the questions which concern problems of struggle with crimes in sphere of computer technologies usage, such crimes as a social phenomenon have received, in the literature, the title,  - " computer crimes ". The special attention in book is removed to research of theoretic and criminology - criminalistic problems.
      This book is proposed for the students of higher educational establishments, which specialize on information security, protection of the information, jurisprudence and law-enforcement activity. This book will be also useful as a practical manual for the experts of the law-enforcement agencies, post-graduate students and science officers.
<![if !supportEmptyParas]> <![endif]>
<![if !vml]>
<![endif]><![if !mso]>

<![endif]>

<![if !vml]>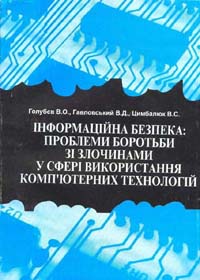 <![endif]>

<![if !supportEmptyParas]> <![endif]>

<![if !mso]>

<![endif]><![if !mso & !vml]> <![endif]><![if !vml]>

<![endif]>

<![if !supportEmptyParas]> <![endif]>

<![if !supportEmptyParas]> <![endif]>

<![if !supportEmptyParas]> <![endif]>

<![if !supportEmptyParas]> <![endif]>

<![if !supportEmptyParas]> <![endif]>

<![if !supportEmptyParas]> <![endif]>

<![if !supportEmptyParas]> <![endif]>

<![if !supportEmptyParas]> <![endif]>

<![if !supportEmptyParas]> <![endif]>

<![if !supportEmptyParas]> <![endif]>

<![if !supportEmptyParas]> <![endif]>

<![if !supportEmptyParas]> <![endif]>

<![if !supportEmptyParas]> <![endif]>

<![if !supportEmptyParas]> <![endif]>

<![if !supportEmptyParas]> <![endif]>