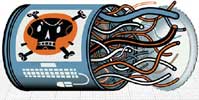 Viruses: From Russia, With Love?
Date:
June 09, 2004
Source:
COMPUTERWORLD
By:
... request for traffic data is "for the investigation of a virus trail or to track the dissemination of information regarding Chechnya?" Hosein says. "The point is that policies will be developed to enhance the investigation of viruses in order to trace virus makers and other perpetrators of cybercrimes, only to see those same powers used for different purposes, such as pursuing copyright crime and 'indecent' communications."
Add to that the global approach virus writers are now taking to make their assaults even more difficult to track. "We are monitoring virus incidents whereby writers operating in country A launch a virus in country B to infect computers in country C," says Mikko HyppŁnen, director of antivirus research at F-Secure in Helsinki. "It's hard to prosecute offenders especially when laws are nonexistent in many of the countries that these guys are using to launch their virus attacks."
International law is often ill-suited to deal with the problem, with conflicting views on what constitutes cybercrime, how--or if--perpetrators should be punished and how national borders should be applied to a medium that is essentially borderless.
"What is needed is the ability to extradite," says Mi2g's Matai. "But this is not easy because of the anonymous nature of organized crime--it's very difficult to pin down who actually committed a crime--and because individuals who are caught committing a crime in one country may not have any laws against that crime in their own country."
Going Global
Efforts to establish global cybercrime laws exist. London School's Hosein points to the Council of Europe convention on cybercrime, a treaty signed in November 2001 that calls on countries to harmonize their laws on and investigative powers of all illegal behavior, including hacking and child pornography, and to ensure international cooperation in investigations. But Hosein warns that as countries adopt the convention into national law, many tend to go further than necessary in order to expand their powers.
Some experts are in favor of establishing a special global cybercrime task force, similar to the Interpol international police network. "We just need to copy the Interpol structure for traditional crime, make some slight changes and establish cooperative programs," Gostev says.
In the absence of a global Net cop, Microsoft has been offering Wild West-like
bounties to catch cybercriminals
. But one former virus writer in the Czech Republic dismisses the bounty as a marketing tactic, saying it will have no deterrent effect. "For Microsoft, it's just another excuse for their buggy software," Benny says in an e-mail. "It's only about marketing."
Security experts believe the best way to curb cybercrime is for each and every user to make sure his o front door is securely locked.
"A due diligence approach is required to help fight off this new wave of cybercrime," says iDefense's Dunham. "Everyone must take responsibility for helping to harden computers against attack, from the end user to the CEO of a large corporation."
Original article
---
Add comment
Email to a Friend